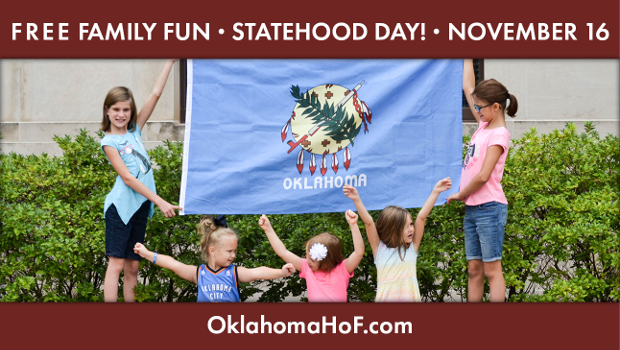 BOOK YOUR 2017 AND 2018 FREE FIELD TRIPS TODAY! The Oklahoma Hall of Fame believes there are no limits to what is possible. Every day we celebrate the legacy of inspiring Oklahomans with all generations because Oklahomans are changing the world!
Through each of its programs and the Gaylord-Pickens Museum, the Oklahoma Hall of Fame promotes pride in our great state and honors our state's rich history by telling Oklahoma's story through its people. For 90 years, membership in the Oklahoma Hall of Fame has been Oklahoma's highest honor! Come visit us today to learn more!
FREE ADMISSION Oklahoma Hall of Fame Gaylord-Pickens Museum -
Present this coupon for Free admission to the Oklahoma Hall of Fame at the Gaylord-Pickens Museum
HOURS: Tuesday-Friday: 9 a.m. - 5 p.m. Saturday: 10 a.m. - 5 p.m.

Visit OklahomaHOF.com to confirm hours.

1400 CLASSEN DRIVE NW 13th STREET & SHARTEL AVENUE OKLAHOMA CITY, OK 73106

PHONE: 405.235.4458 or 1.888.501.2059

WEB: OKLAHOMAHOF.COM
Via interactive exhibits, experience Oklahoma through the eyes of its people. Not valid with any other offer. Coupon valid for up to 5 admissions.