Ireland has always been at the top of our 'to visit' list…for someday. Until then, we will celebrate St. Patrick's Day with our favorite Irish meal. T
aitneamh a bhaint as (Enjoy!)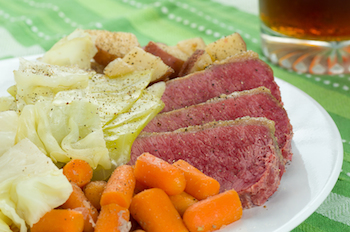 Crockpot Corned Beef Brisket
1 onion

carrots (chopped)

potatoes (diced)

1 cup beef broth

1 teaspoon Worcestershire sauce

garlic clove

bay leaf

cabbage (chopped)
Place cut vegetables on bottom of crock pot.
Place corned beef brisket on the top.
In mixing bowl combine broth and Worcestershire sauce. Pour over top of brisket.
Add garlic clove and bay leaf. Cook on low 6-8 hours.
Add cabbage to top of pot half way through cooking time.
Irish Soda Bread
2 cups white flour
1 cup whole wheat flour
2 tsp baking soda
½ tsp salt
½ cup white sugar
2 eggs
1 ½ cups buttermilk
¾ cup raisins
In mixing bowl combine flours, baking soda, salt and sugar.
In separate bowl combine eggs and buttermilk.
Pour into dry ingredients and blend slightly, you just want the dough moistened so don't beat to long. Stir in raisins.
On a floured surface knead dough several minutes.
Place in a round cake pan. With a knife slice an X on the top of the loaf.
Bake at 350 degrees for 30-40 minutes until golden.
2-4 lbs. cubed chicken or beef
2 tsp salt
¼ tsp pepper
2 qt broth
2 bay leaves
1 Tbsp Worcestershire sauce
carrots (chopped)
potatoes (chopped)
onions (sliced)
Add ingredients to crock pot or large soup pan making sure liquid covers all meat and vegetables.
Cook on low 6-8 hours or high 4-6 hours.